Triad pair Cantaloupe Island exercises PDF (Advanced) Digital Download)
Note. If you wish to purchase this with a credit card please proceed to JazzDuets parallel site here: https://gum.co/qTeBK
Question - What is this System- Triad pairs?
Answer - An immensely powerful innovative improvisational tool!
Simply put, it is superimposing pairs of triads ( major or minor) over a given chord.
When we play triad pairs on top of a base chord we can EVOKE exotic sounds and colours.
Just as a master chef adds special ingredients to a dish to produce a
mouth watering flavours we can learn to colour our improvisations in a masterful way superimposing triads, taking our playing rapidly to a higher level.
This PDF features very carefully written Triad pair exercises over the famous groovy chords of Cantaloupe Island by Herbie Hancock that will challenge you technically whilst training your ear to hear these harmonies taking your playing to 
a new level.
 This  digital Pdf  ( in 4 versions: for  Bb Sax and Bb Trumpet + Eb Sax + C instruments) contains :
1) the exact Exercises as shown in the Youtube Video 
2) the 'basic' versions  of the  above exercises that are written to
introduce the player to the triads- hence one grouping per chorus
of 3, 4 ,5 ,6, 7 and 8 notes in 8th notes, triplets and 16th notes-
( 7 pages of these preparatory exercises) 
3)  2 x Mp3 Play alongs to practice with at original pace and a little slower!
4) New Eb versions  specially adapted for Alto Sax, using the entire range
Customer Reviews
Write a Review
Ask a Question
Filter Reviews:
material
Nick
phrasing
experience
value
videos
passion
music theory
approach
level
Very helpful
As a professionell saxophonist i use this exercises for warm up, changing my lines and for lessons. Straight and musically . You don't have to read a book first. It takes 5 minutes to buy, (down) load and start playing! It's not easy, but you can use a metronome first (or slow down the music).
07/11/2020
Suzan
Germany
very helpful exercises
Excellent: I would definitely buy from you again.
06/17/2020
Antonio G.
Italy
Cantalupe Island Triad pair
Fantastic ! The triads Pairs approach is really interesting and innovative, the phrasing is enriched with a great variety of rhythmic approaches. Truly complete and exhaustive Thanks !!
05/18/2020
Joosten V.
Singapore
Triad Bundle
I started practicing taking ideas from the videos available in Youtube and really appreciate the level of detail, the care and the passion that oozes from these well designed videos. Never has music theory been so immediate and practical. Overall very positive experience and renewed passion as i jumped over significant practice rut through this material. Thank You Nick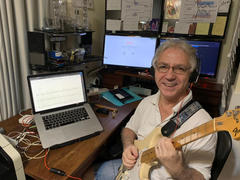 05/11/2020
carlos m.
Spain
CANTALOUPE ISLAND
Genial y de gran ayuda para jugar con cualquier instrumento...